The Muslim population of England and Wales is growing faster than the overall population, with a higher proportion of children and a lower ratio of elderly people, according to an analysis of official data.
One in three Muslims is under 15, compared with fewer than one in five overall. There are also fewer elderly Muslims, with 4% aged over 65, compared with 16% of the overall population.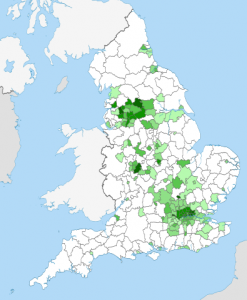 In 2011, 2.71 million Muslims lived in England and Wales, compared with 1.55 million in 2001. There were also 77,000 Muslims in Scotland and 3,800 in Northern Ireland.
The Muslim Council of Britain's (MCB) study of data from the 2011 census found that Muslims are still a small minority of the overall population – one in 20.
Half the Muslims in England and Wales were born there and almost three-quarters (73%) identify themselves as British. Two-thirds of Muslims are ethnically Asian and 8% are white.
Responding to the report, the deputy prime minister, Nick Clegg, said: "I believe that every person, whatever their background and circumstances, should have an equal chance to thrive. "What's not in doubt is that British Muslims can be proud of the contribution they make to our country."
The figures show that Muslims make up 20% or more of the electorate in 26 constituencies and live in all local authority areas in England and Wales. "There has been a spreading-out effect and this has accelerated in the past 10 years," said Sundas Ali, a sociologist at Oxford University.
Eight per cent of all school-age children (five to 15) are from Muslim households. Some schools have a high proportion of Muslim pupils, such as those in Washwood Heath in Birmingham, where 86% of school-age children are Muslim.
The proportion of Muslim adults with degree level and above qualifications is similar to the general population, at 24% compared with 27%. In the last census, there were 329,694 Muslim full-time students, of which 43% were women.
Despite high numbers of Muslim women in full-time education, the findings show that within the 16 to 74 age band, 18% of Muslim women are "looking after home and family", compared with 6% in the overall population.
James Nazroo, a professor of sociology at Manchester University, said: "I think there are a large number of myths around the ethnic minority and religious minority populations in the UK and so it's important that these myths have light shone on them."
He added: "This is where the policy engagement can happen and we can work on the basis of good information rather than the basis of myths and look at inequalities that sections of our society face."
The settlements with large number of Muslims are Bradford, Luton, Blackburn, Birmingham, London and Dewsbury. There are also high numbers in High Wycombe, Slough, Leicester, Derby, Manchester, Liverpool and the mill towns of Northern England.
The local authorities with a Muslim population greater than 10 percent in 2001 were:
London Borough of Tower Hamlets 36.4% 71,389
London Borough of Newham 24.3% 59,293
Blackburn with Darwen 19.4% 26,674
City of Bradford 16.1% 75,188
London Borough of Waltham Forest 15.1% 32,902
Luton 14.6% 26,963
Birmingham 14.3% 139,771
High Wycombe 14.1%, 9,708
London Borough of Hackney 13.8% 27,908
London Borough of Enfield 13.5% 37,388
Pendle 13.4% 11,988
Slough 13.4% 15,897
London Borough of Brent 12.3% 32,290
London Borough of Redbridge 11.9% 28,487
City of Westminster 11.8% 21,346
London Borough of Camden 11.6% 22,906
London Borough of Haringey 11.3% 24,371
Metropolitan Borough of Oldham 11.1% 24,039
Leicester 11.0% 30,885
London Borough of Ealing 10.3% 31,033
Kirklees 10.1% 39,312
Most large cities have one area that is a majority Muslim even if the rest of the city has a fairly small Muslims population; for example, Harehills in Leeds.
In addition, it is possible to find small areas that are almost entirely Muslim: for example, Savile Town in Dewsbury.    http://www.quranfocus.com