Al Noor School was founded in 1995. Al‐Noor School is one of the Largest and fastest growing Islamic schools in America. They are strategically located in the heart of Brooklyn, New York. In September 2002, they attained the Pre Kindergarten – 12th grade status with current registration of 650 students. Most of their students are the American‐born descendants of Muslim immigrants from the Middle East and Indian Subcontinent.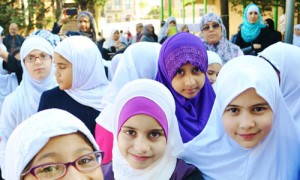 Al Noor School is a New York State chartered school educating male and female students from Pre Kindergarten to 12th grade. The staff of Al Noor School is committed to the pursuit of excellence in Islamic faith and academic studies with the inculcation of Islamic values, morals and the development of a strong attachment of our students to the Islamic culture.
Their goal is to ensure that our students can make optimal use of modern facilities and technology, and to acquire the relevant attitudes and skills so that upon their graduation they will serve as useful and productive Muslims and can provide effective leadership in all spheres of society.
Al-Noor is very much concerned with the general academic development of its students, their morals, values, and identity as Muslims. The efforts of the administration and faculty have proven that Al-Noor can offer its students a quality education to enter the best colleges, In June 2002; the first batch of students graduated and received the high school diploma. This is a remarkable achievement and Al-Noor will continue to add more of these fulfilments.
Al Noor School is committed to providing an education of excellence that meets each student's interests, abilities and needs within a common curricular framework and reflects and promotes an understanding of, and appreciation for, diversity in our community as an integral part of school life. Al Noor School challenges each student to develop intellectual independence, creativity and curiosity and a sense of responsibility toward others both within the school and in the community at large. Guided by the Quran and the Sunnah of the Prophet Muhammad (PBUH) Al Noor School prepares students to go forth as active participants in society.
Al Noor School Address
675 4th Avenue
Brooklyn, NY 11232